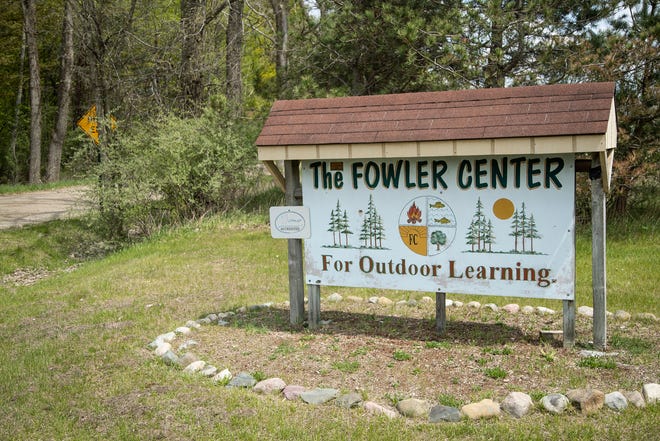 Fowler Center, camp for developmentally disabled, acquired by MCHS Family of Services
By Miriam Marini/Detroit Free Press
Tucked between acres of farmland in Michigan's Thumb rests a sanctuary for members of an often-disregarded sect that accounts for about a quarter of the state's population.
The Fowler Center is a camp in the traditional sense — there's kayaking, fire pits, and incessant bugs — but its magic comes in its campers, who are all welcome regardless of cognitive or physical ability. Since its founding in 1957, Fowler Center has empowered individuals with developmental disabilities through independent camping.
On first glance, it's an ordinary campsite with rock climbing, a treehouse, and archery. But with a second look, you'll see the rock wall is outfitted with a harness attached to a pulley system and bows are jerry-rigged by volunteers to allow campers with limited mobility to partake in traditional activities reimagined.
"For most of us, we're basically restricted as to what we can and cannot do by society," said Tammy Watts, 29, of Farmington Hills, who has cerebral palsy and corrective scoliosis and has been a camper at Fowler for more than two decades. "It's home; it really is our home."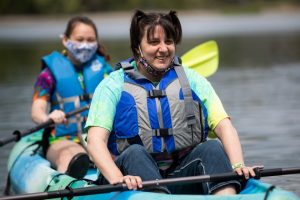 The camp in Mayville, Michigan, was fully acquired in the spring by the Methodist Children's Home Society, a child welfare agency based in Redford that provides foster care, adoption, and transitional living assistance. Perry said he hopes the acquisition will expand the camp's donor base and allow for needed maintenance of facilities, some of which haven't been updated since the 1970s.
"The growth and the ability to improve and gain independence is amazing, especially when you're in a relaxed outdoor setting," said Ken Perry, president of the Fowler Center's board of directors. "Regardless of ability, any camper can learn from being away from their family and learning independence and growth just by being away from their family."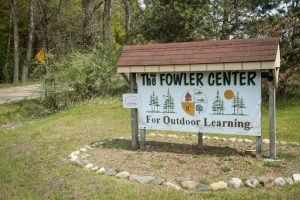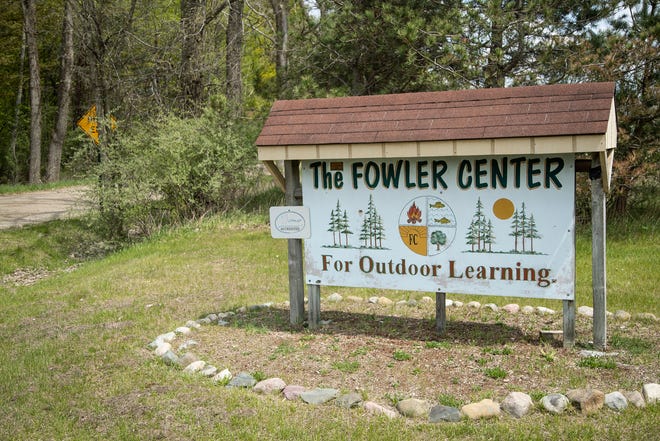 Kevin Roach, CEO Of the Methodist Children's Home Society, said the acquisition has the potential to benefit the children and families the home serves.
"It just seemed to be a hand-in-glove fit where we saw this extraordinary opportunity to partner with an amazing organization that has dedicated, decade after decade to serving young people, families, and adults of all different abilities," said Kevin Roach, CEO of the Methodist Children's Home Society.
Where anything's possible
At Fowler, the answer isn't "No, you can't," it's, "Let's make it happen."
The camp serves as an escape for disabled people, with the youngest of the campers being 6 years old, who are restricted from doing certain activities in their daily lives due to their disability. Year-round, programs focus on removing barriers to allow campers to participate in any activity they desire, according to their individual ability level.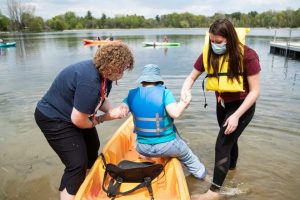 For example, horse riding. Fowler Center has an indoor equestrian center where campers can ride horses that are specially trained to ignore sudden sounds or squirmy riders — to name a few of their feats — and equipped with a pad and surcingle rather than a saddle to make riding more comfortable.
"Everyone deserves it," said camp director Lynn Seeloff, who started at the camp as a volunteer in 2004, while giving a tour of the campsite's many attractions. "This is where they come to have fun and be in a safe environment where their family knows they're going to be cared for and knows that they're safe."
His annual week at Fowler is something Terreance Tate, 32, looks forward to all year, and it's a chance for his father to take a break from caring for him. Camp gives Tate time to practice his archery and take his mind off of his mother's death.
"If I didn't have this place to come to, I wouldn't know what to do with myself," said Tate, who was born with spastic quadriplegic cerebral palsy. "It's like my third home."
The camp serves a double benefit: Campers get a chance at true independence and families who serve as lifelong caregivers are allowed stress-free time off. As respite care is typically covered by Medicare, time away at camp often comes cost-free to families — saving them nearly $2,000 a week.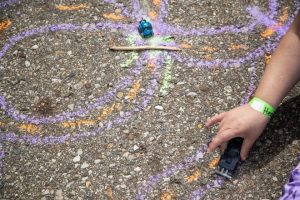 The break is a welcome relief for the Watts family and for Tammy, it's a chance to stop having to rely on others, even for mundane everyday tasks like opening the door.
"You're on someone else's time all the time," she said.
The toll of caregiving for a loved one can have a ripple effect on families, as every aspect of one's life is shaped by another's needs. Whether it's time to run errands or do a special outing with the other children who don't receive as much attention, camping at Fowler grants caregivers a complete break.
"Taking care of somebody 24/7 without any reprieve is just mentally and physically exhausting," said Seeloff. "You can't give from a glass that's empty, so they have to be able to take care of themselves as well if they want to be able to take care of their loved ones."
Climbing toward the future
The operations of the Fowler Center are now fully MCHS's responsibility, as part of the acquisition that has been in the works since winter 2019. The two nonprofits envision a big future for the 200-acre campsite that could grow to serve a wider population.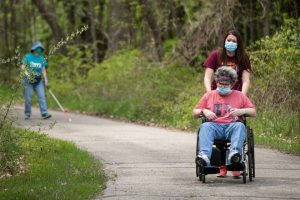 "When you have two organizations who have a rich and proud history of over 170 years combined history of serving some of the most vulnerable populations in Michigan, and really those who don't necessarily get all the opportunities afforded to them that their counterparts who don't have the same challenges have," Roach said. "How could we work together to keep expanding the impact that they (Fowler Center) certainly had."
Part of this expansion includes serving both organizations' audiences and underserved populations to meet the camp's potential, which can host more than 100 people at once, and possibly starting day programming.
"Any child should have a Fowler Center experience regardless of their ability and so we are touching a small sliver of that population," Roach said. "An overnight experience at the Fowler Center is so deeply transformative, it's beyond just a typical summer day camp program because of the relationships and life skills that can be developed and the confidence and self-esteem booster you get when you're able to conquer challenges."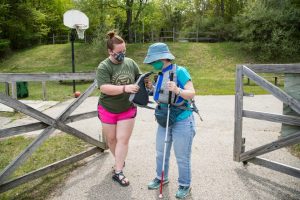 Beyond acting as a chance at independence, the Fowler Center can serve as a refuge from city life and the confines of suburbia — a privilege not many living in the metro Detroit area have access to.
"I want to be on the bus when those first Methodist Children's Home Society kids come up to the Fowler Center," Perry said, "because for many of these individuals who live in the inner city, they've never seen a farm, cattle, a lake, the beauty of outdoors, they've never gone up into a treehouse.
"That's why this partnership is so important."
Click HERE to read the full story on Detroit Free Press