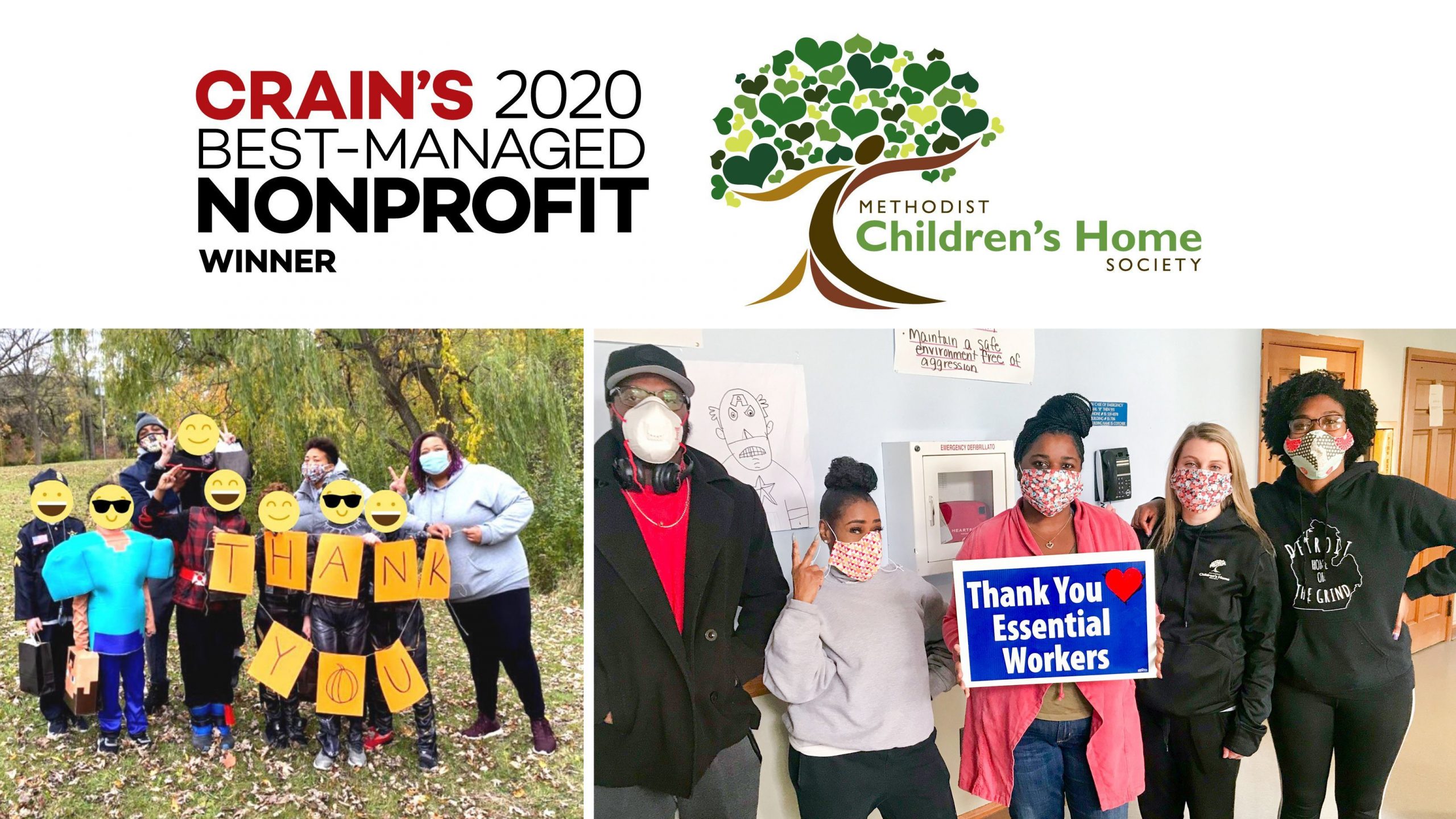 Crain's Detroit Business: Best-Managed Nonprofit, 11/30/20
Click HERE to read the full story on Crain's Detroit Business
Methodist Children's Home Society Named Crain's
2020 Best-Managed Nonprofit
In a relentless year of uncertainty and surprise, Methodist Children's Home Society proudly accepts the honor of being named Crain's
2020 Best-Managed Nonprofit.
Typically the most recognizable award annually bestowed upon a nonprofit in Michigan, it's also the most competitive. As shared by Crain's Detroit Business, the program "honors the best in leadership and financial stewardship in Southeast Michigan's nonprofit community. This was not your average year by any stretch. But judges said were awed at how the nonprofits under consideration rose to the occasion and then some, pivoting, collaborating, being creative and innovative and through it all, being good stewards of the people they serve."
Yet, as emphasized by Kevin Roach, "This recognition was about all the employees, the entire team, each of whom did their part in ensuring the very best care and services to children and families in Michigan. That regardless of how challenging and uncertain 2020 was, our staff came together in the most remarkable ways, with a determination and commitment to ensure we emerged stronger. I couldn't be more proud to be a small part of this effort and how the team continued to fight through the year, through everything, to make MCHS what we are today and what we will be tomorrow."
This year, the annual award hosted by Crain's Detroit Business focused on how nonprofits have adapted their operations to continue fulfilling their missions in the age of COVID-19.
MCHS was recognized for its dedication to not only the children, families and communities we serve, but also to its essential workers – our silent heroes of this pandemic.
In March, when the pandemic reached Michigan, MCHS quickly pivoted to protect its entire community with a COVID-19 Preparedness Plan. We knew this plan had to be as aggressive as the virus itself. This included implementing an internal day care to support staff who found themselves with children at home once schools closed. Also, an employee assistance fund was established, hazard pay for essential staff who remained on campus daily began and remote options for non-essential staff who had the ability to work from home. Direct care and operations staff saw increased salaries to recognize the risk they faced continuing around the clock care for our children through food, health, education, therapy services and general care.
The agency also pivoted its fundraising goals as all planned in-person events for the remainder of the year were cancelled. The focus quickly shifted to creating the MCHS COVID-19 Relief Fund, a majorly successful campaign that supported ongoing essential operations helping the agency continue its mission of uplifting the most vulnerable populations through an incomprehensible time in history. Through this campaign, we found that our partners – both existing and new – felt strongly compelled to do their part in helping others through this pandemic. Our partners heard our calling and stepped up in a huge way!
During 2020, the children who live on campus as part of the MCHS residential treatment program taught its staff the greatest lesson of all – the power of dignity and respect. As the world outside battled severe racial injustice at a boiling point with the death of George Floyd, the foster care world was also rocked by the death of 16-year old Cornelius Frederick, a teen at a residential facility in Michigan who died from a physical restraint by staff. With this news, while MCHS continued the external fight against COVID-19 to protect our youth, it also made the organic change within to become the first restraint-free residential treatment program in the state. We knew that safety and protection starts internally. Our children deserve the restored respect and dignity that they had already been stripped of early in life. MCHS, like every other organization in 2020, has gone through a year of massive change and uncertainty. We've upended our service lines, delivering them at times through virtual format only. We've lost loved ones. We've lost routine. We continue to struggle with the collective grief the world is experiencing. But through it all, we will come out stronger. We know that our relationships are what uplift us and allows us to continue our mission through the darkest days. We know that none of this is possible without our amazing staff who continue to show up for our children, day in and day out. We send a heartfelt THANK YOU to all who make MCHS the organization it is today.
Click HERE to read the full story on Crain's Detroit Business